Buffer Cup League
Runs April thru
Mid Summer
Pheasant Cup League
Runs July thru
Early Fall
Un-Named Third League
(Will be formed if enough participants)
Runs Sept. thru
Late Fall
Costs:

Cost will be $15.00 per shooter, per week.
(Includes 50 Targets and Cart Rental)
General Info:

Maximum of 5 shooters per roster
5 shooters' scores count each week.
The 4 highest scores are used to determine the weekly league standings.
If only there are only 3 shooters on your roster, the lowest shooter's score will be counted twice.


A Trophy is awarded to winning team to be displayed utill the next years' league is over.
Individual engraved trophies for winning team members.
Weekly standings and top league shooters will be published in the Somerset Daily American newspaper.
Sign ups are needed at least a week in advance.


Individual sign ups are welcome to help fill team rosters.
If we sign up more than 8 teams; two leagues will be run simultaneously, with a trophy for each.
The lighted 5-stand is avilable for evening shoots with a closing time of 10:00pm.
For more information and shooting times, call Buffer Creek at
(814) 443-3141.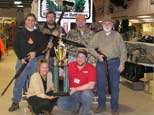 Winners 2004 Pheasant Cup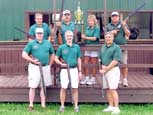 Winners 2005 Buffer Cup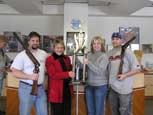 Winners 2004 Buffer Cup